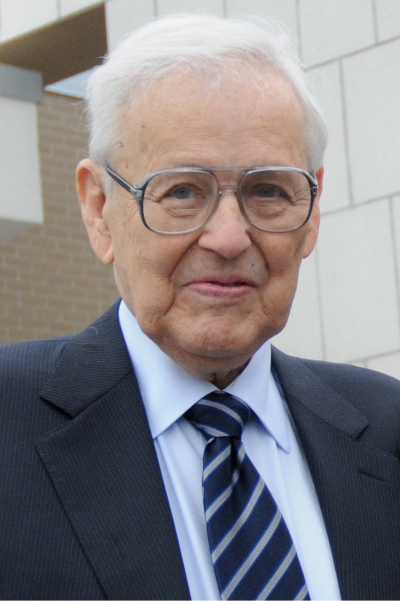 Fred Kummer
Founding Chair, 2020-2021
The late Fred Kummer was the founder, president and CEO of St. Louis-based HBE Corp., the world's leading design-build firm for health care. Known for his hands-on leadership and attention to detail, he and his wife, June Kummer, have been among Missouri S&T's most generous donors over the years.
In addition to their gift to establish the Kummer Institute, the Kummers provided the lead gift for the Kummer Student Design Center, which houses Missouri S&T's 18 student-run design teams. They also supported the expansion of Butler-Carlton Civil Engineering Hall and the construction of Toomey Hall, which houses S&T's mechanical and aerospace engineering programs, and provided the naming gift for the Fred and June Kummer Garden at Hasselmann Alumni House.
Fred Kummer earned a bachelor of science degree in civil engineering from Missouri S&T (then known as the Missouri School of Mines and Metallurgy) in 1955. His father was an engineer with a hotel company in New York City, and Kummer developed his business savvy in the hotel basement, where he and a high school classmate ran a printing press to print menus for restaurants in other neighborhood hotels. He attended City College of New York before transferring to Missouri S&T.
While in college at Rolla, Kummer worked for a St. Louis architectural firm and there he met June, an architect and graduate of Washington University in St. Louis. He left the university in 1952 to join the Army, married June while in the service and returned to Rolla in 1954 to complete his degree.
Kummer was a member of the Missouri S&T Board of Trustees and the University of Missouri Board of Curators. In 2011, he was named to the inaugural class of Missouri S&T's Alumni of Influence.
Kummer founded HBE Corp. in 1960 with $25,000 in the bank, he said in a 1993 article in Missouri S&T's alumni magazine. The company provides planning, interior designs, pricing, scheduling and engineering services. It also designs and builds health care facilities, financial institutions and hotels. His early design-build construction work included some buildings on the S&T campus, including the Gale Bullman Building and Curtis Laws Wilson Library.
Kummer passed away April 30, 2021, at age 92. "No individual was more supportive of this institution, and no individual more passionate about advancing this university's mission, than Fred Kummer," Missouri S&T Chancellor Mo Dehghani said.
Dr. Mohammad "Mo" Dehghani
President and Chief Executive Officer
Mohammad (Mo) Dehghani became chancellor of Missouri University of Science and Technology on Aug. 1, 2019. A mechanical engineer, Dehghani is a nationally prominent research and academic leader who has experience leading complex organizations and building collaborative teams.
Dehghani joined S&T from Stevens Institute of Technology in Hoboken, New Jersey, where he served as vice provost for research, innovation and entrepreneurship since 2013. At Stevens, he led the university's continuing development of research programs and implementation of the research and scholarship component of the university's strategic plan.
Before joining Stevens, Dehghani was a professor of mechanical engineering and founding director of the Johns Hopkins University Systems Institute. Through that institute, he established collaborative research and application programs with several organizations, including the Department of Defense, the National Institutes of Health, the National Science Foundation (NSF) and the Department of Health and Human Services, with internal divisions at Hopkins, including Johns Hopkins Medicine, the Bloomberg School of Public Health, the Whiting School of Engineering and the Applied Physics Laboratory.
Prior to joining Hopkins in 2008, Dehghani led the New Technologies Division at the Lawrence Livermore National Laboratory. The laboratory is a $1.8 billion, 7,000-employee multidisciplinary applied science and engineering national security laboratory with programs in advanced defense technologies, energy, environment, biosciences and basic sciences.
At Lawrence Livermore, Dehghani helped develop technologies and expand many areas of engineering, including biomedical engineering, nuclear engineering, process systems and the traditional engineering disciplines of mechanical engineering, electronics, fluidics, and multi-scale modeling and simulations.
Dehghani holds a Ph.D. in mechanical engineering from Louisiana State University, where he also earned his master of science and bachelor's degrees in mechanical engineering. He also completed a postdoctoral NSF internship at Massachusetts Institute of Technology.

Dr. George P. "Bud" Peterson
Chair
Dr. George P. "Bud" Peterson, Regents Professor of mechanical engineering at Georgia Institute of Technology, served as Georgia Tech's 11th president from April 2009 to August 2019. He was elected chair of the Board of Directors Aug. 11, 2021, succeeding founding chair the late Fred Kummer.
Peterson also served as chancellor of the University of Colorado at Boulder, provost and officer of the institute at Rensselaer Polytechnic Institute, and program director for the National Science Foundation's Thermal Transport and Thermal Processing Program. Earlier in his career, he held several positions at Texas A&M University, including serving as associate vice chancellor for engineering for the Texas A&M University Systems. He was a visiting research scientist at NASA-Johnson Space Center and held faculty positions at Kansas Technical Institute, Shawnee Mission South High School and Wabaunsee (Kansas) County High School.
Peterson has played an active role in helping to establish national education and research agendas, serving on numerous industry, academic and congressional task forces, research councils and advisory boards, including the Office of Naval Research, NASA, the Department of Energy, the National Research Council, the National Academy of Engineering, the American Institute of Aeronautics and Astronautics, the National Science Board, the Association of Public and Land-grant Universities, and the U.S. Council on Competitiveness.
Peterson's research interests include the fundamental aspects of phase change heat transfer, including the heat transfer in reduced gravity environments, boiling from enhanced surfaces, and some of the earliest work in the area of flow and phase change heat transfer in microchannels.
Gary Havener
Gary Havener, president of the Havener Companies, is a successful entrepreneur who has founded multiple companies with business dealings that include real estate development and investment, refurbishing corporate jets, warehousing textbooks, designing and manufacturing antenna systems, and handling loans. He began his career after service in the U.S. Army Corps of Engineers.
In 2002, Havener gave the lead donation to construct the Havener Center on the S&T campus. The 105,000-square-foot student center houses the S&T Store, a food court, coffee shop, bank, administrative and student offices, and meeting and banquet space for groups, large and small.
Havener served on the executive committee of the Fort Worth Transportation Authority for 10 years and served on the board of directors of the Fort Worth Museum of Science and History. At Missouri S&T, he is a member of the Board of Trustees and the Order of the Golden Shillelagh and is a recipient of an Alumni Achievement Award from the Miner Alumni Association. Havener has served on the Chancellor's Leadership Academy, the Dean's Advisory Council, the Dean's Board of Visitors and the 15-member Advancing Excellence Campaign Steering Committee. He was recognized as an Honored Founder in 1994 and is one of the 2011 cohort of the Missouri S&T Alumni of Influence.
Joe D. Lehrer
Joseph D. Lehrer, of counsel with the St. Louis law firm Greensfelder, publicly and privately held clients in corporate transactions, handling mergers, acquisitions and divestitures as well as financing. He represents substantial closely held corporations in regard to financial and tax structure, general business law matters and strategic planning issues.
Lehrer has been primary and lead negotiator and attorney for a number of well-publicized transactions both in and outside of the St. Louis area, including sales of publicly traded companies in stock, partial-stock and all-cash transactions; sales to private equity funds; sales of privately held companies to publicly traded corporations; "roll up" acquisition of a series of industry companies; and strategic business acquisitions.
He has acted as special counsel for boards of directors or their committees on corporate governance issues, unique business and legal issues, director liability issues, and sale of the corporation. He has also served as a board of directors or advisory board member for publicly traded and privately held corporations and was involved as a director in the successful turnaround of multiple publicly traded corporations.
Lehrer is a member of the Board of Trustees of the Saint Louis Art Museum and a subdistrict commissioner. He is a member of the National Council of Washington University School of Law and the board of directors of Jazz St. Louis.
Dr. Joan B. Woodard
Dr. Joan B. Woodard is the retired executive vice president and deputy director of Sandia National Laboratories.
Over her 36-year career with Sandia National Laboratories in Albuquerque, New Mexico, Woodard advanced from a solar energy research scientist to executive vice president and deputy director. She served as executive leader for the nuclear weapons program, as the executive for all programs in nonproliferation, military technology and systems, energy, environment and waste management technology and intelligence, and as chief operating officer responsible for all operations areas of the laboratories. Woodard retired from Sandia in 2010 and continues to work as a consultant.
A member and past president of the Missouri S&T Board of Trustees, Woodard has served on numerous advisory boards, commissions and study panels devoted to scientific discovery and national security, including the U.S. Secretary of State's International Security Advisory Board, the Air Force Scientific Advisory Board and the Defense Science Board. She holds a bachelor's degree in applied mathematics from Missouri S&T, a master's degree in engineering economic systems from Stanford University and a Ph.D. in mechanical engineering from the University of California-Berkeley. She is a member of the Academy of Computer Science and was awarded Missouri S&T Award of Professional Distinction and the doctor of engineering, honoris causa. In 2011, she was named one of the university's Alumni of Influence.