Read by Chancellor Mo Dehghani October 9, 2021, during the inaugural Kummer Day event at Leach Theatre of Castleman Hall on the Missouri S&T campus.
Dear Fred and June,


What a year it has been!
I think you would be very pleased with the progress we have made since you donated your generous gift to us one year ago today.
I miss reporting our progress to you every Saturday, but I continue to keep your mandate at the forefront of my mind in every decision we make related to the Kummer Institute.
Today I share with you the first of what will be our annual report on the Kummer Institute for Student Success, Research and Economic Development. Every year on the anniversary of your gift, Kummer Day, I will present this report to our campus community. We also plan to pass this tradition along to future chancellors of this wonderful university, so that 20, 30, 50, 100, 200 years from today, all who hear this message will know the lasting impact of your incredible gift.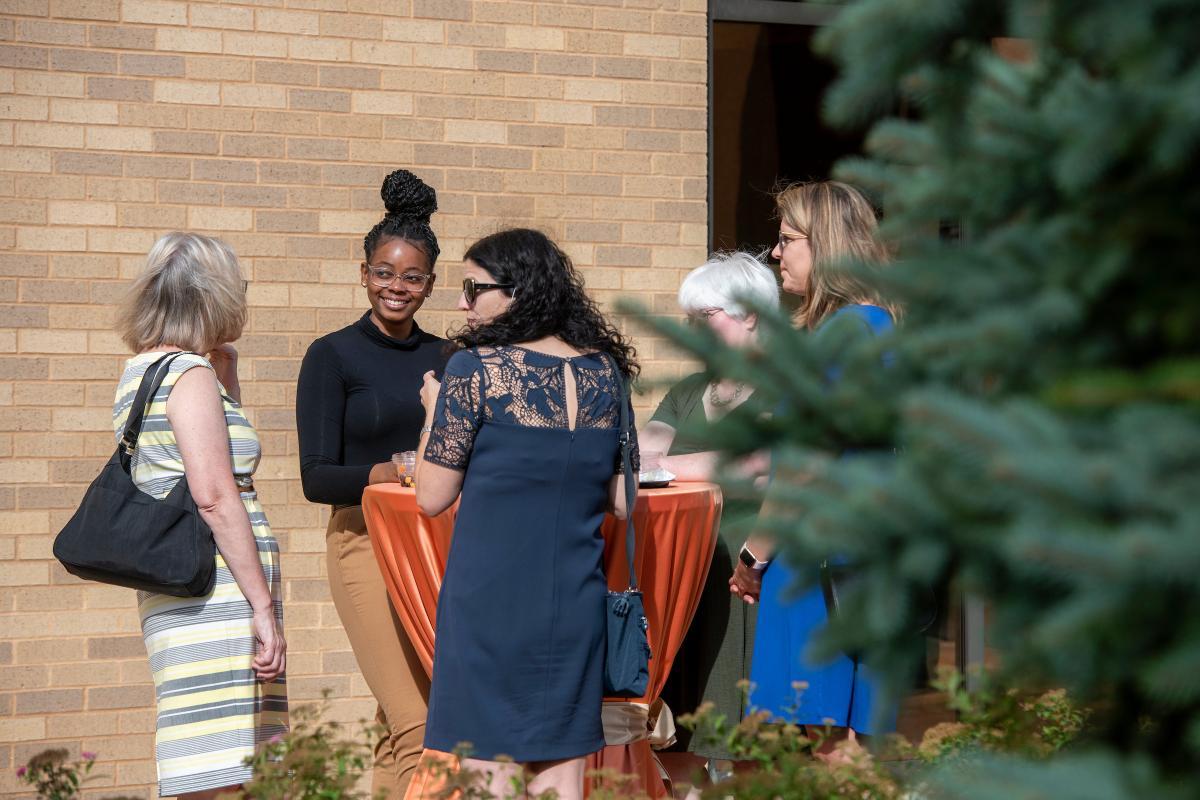 First of all, Fred, I wish to report that the Kummer Institute Foundation Board of Directors is in very capable hands. In August, Dr. Bud Peterson, a board member with whom you interacted several times, was selected to succeed you as chair of the Board of Directors.
As you know, Bud is The Regents Professor of mechanical engineering at Georgia Institute of Technology and served as Georgia Tech's 11th president from 2009 to 2019. His experience leading Georgia Tech will serve us well as he guides the Kummer Institute Foundation board.
Dr. Steve Roberts continues to lead the Kummer Institute as chief operating officer. He is overseeing our progress on your threefold mandate to elevate Missouri S&T, have broad STEM outreach and have economic impact. And now, I will share some of the highlights of the progress we have made in each area.
First, we are working to elevate S&T through academic and research initiatives.
We have established our new college, the Kummer College of Innovation, Entrepreneurship, and Economic Development. This college, named in your and June's honor, is not your normal business school. The Kummer College is a new kind of college, designed for the mid-21st century to prepare future tech-savvy entrepreneurs, innovators, inventors and business leaders. In other words, people who will hopefully follow in your footsteps.
A national search is underway for a dynamic, innovative leader to serve as the founding dean of this college.
The Kummer College will build on our university's strengths in the STEM fields and on the foundational degree programs of business, economics, engineering management, information science and technology, and systems engineering. Each of these programs is exceptional in its own right, and each has all the elements in place to create the launching pad for a world-class college.
We will build on these areas of excellence with new degree programs and offerings. By this time next year, we anticipate this college to be fully thriving.
In addition, we are establishing four new centers of excellence to accelerate Missouri S&T's research activities. Each center builds on existing strengths and reflects one of the research priorities of our nation.
Our new centers of excellence are in the following areas:
Advanced and Resilient Infrastructure
Resource Sustainability
Advanced Manufacturing, and
Artificial Intelligence and Autonomous Systems.
We are close to closing the deal on one of these center director searches, and we have two other searches that are in the final stages. With these and all other searches, we are focused on attracting "the best of the best of the best of the best," just as you have asked us to do.
Our goal is to elevate research and development that can move from the lab to the marketplace and create social value and social mobility for the people of our region and our state. Ours will be industry-inspired research and research-inspired education in that light.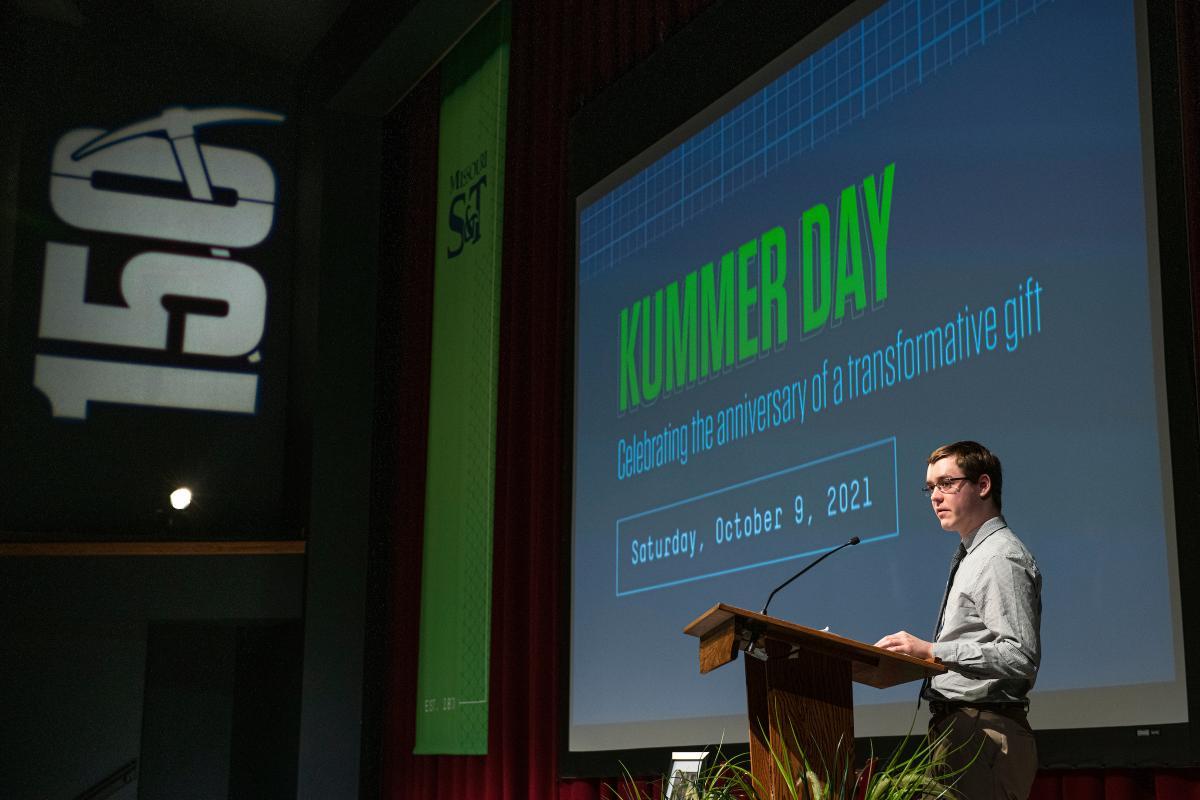 On the academic side, we are establishing 20 endowed chairs and professorships, as you were fully aware.
Searches are underway for two of them – the Kummer Endowed Chair for Business and Information Technology and the Kummer Endowed Chair for Nuclear Engineering and Radiation Science – with more searches to follow.
Our mission to elevate S&T is also benefiting from our new Kummer scholarship and fellowship programs.
We launched our Kummer Vanguard Scholars Program to attract and support the best and brightest freshmen in STEM degree programs. This fall, our first class of Kummer Vanguard Scholars totals 462. This is great progress on our goal of bringing 500 Kummer Vanguard Scholars to campus each academic year.
These students, once again in your words, "the best of the best of the best of the best," and benefit from your generosity in the form of scholarships and additional support and programming to help them become the leaders and innovators of tomorrow.
A fellowship program for Ph.D. students, which as you recall, is called the Kummer Innovation and Entrepreneurship Doctoral Fellowship, brought in 10 Ph.D. students this fall. Our goal is to grow that number each year so that we have up to 100 Kummer I&E Fellows on campus at any given time. Each of these I&E Fellows is focused on innovation and entrepreneurship in the STEM disciplines.
Fred, your and June's generosity has set an example for many other alumni and friends to follow. Here are just a few examples of how your gift has led to even further support for S&T:
Anthony Steinmeyer, who grew up in Rolla and whose father taught economics at the Missouri School of Mines, read about your gift. He was so inspired by your generosity that he donated $2 million to establish a chair in economics to be named after his father. The elder Steinmeyer passed away in 1963 and his son of 87 years old donated $2 million after reading about the Kummer College of Innovation, Entrepreneurship, and Economic Development.
Rosemary Kilker also read about your gift. Her late husband was an engineer, but not a "Rolla" engineer. However, throughout his career he worked with S&T graduates and was always impressed by their ability to roll up their sleeves and get the job done from day one. In other words, he knew about our reputation for graduating "street-ready engineers." She donated $1.5 million to create a new scholarship program to support students in chemical engineering, mechanical engineering, and aerospace engineering.
Our vision to create a new Arrival District to become our welcoming "front door" to the university inspired several donors to contribute to our $18 million campaign. These include Tim and Kay Bradley, Mike and Joyce Bytnar, Gary and Judy Havener, Jeff and Pat Sheets, Steve and Betty Suellentrop, Tom and Carol Voss, and multiple others.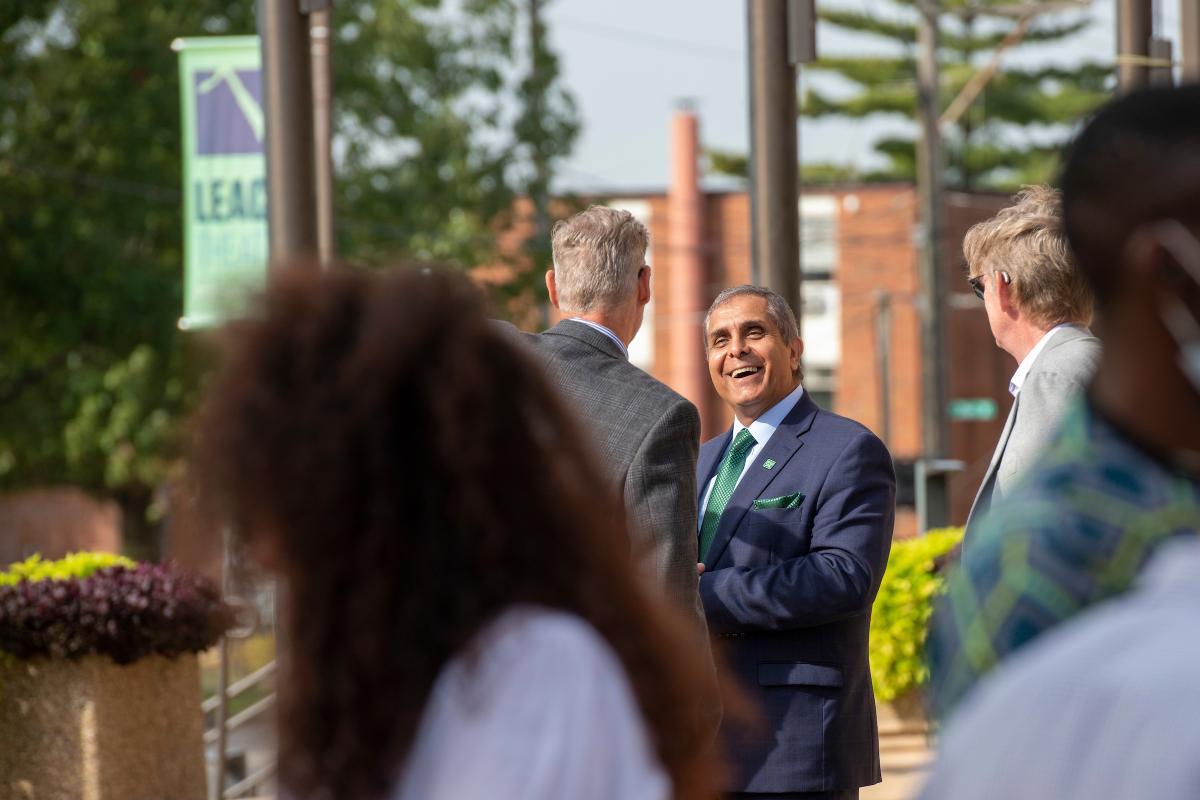 All of these gifts were inspired, either directly or indirectly, by your and June's generosity, and all of them will help further our goal to elevate S&T on many levels.
We are also making great strides in the second part of the Kummer mandate: to establish broad STEM outreach.
There is a need for better and more widespread STEM education, as you know. We have established the Kummer Center for STEM Education and brought on board the center's founding director, Courtney Jones. She will oversee the center's engaging programming for students in grades K through 12 and for teacher development.
Our initiatives to increase STEM outreach include:
Invigorating our summer camps for pre-college students, even at the elementary school level
Launching a mobile STEM lab that will travel throughout Missouri, starting in the spring semester
Hosting field trips, after-school programs, community outreach events, teacher conferences and workshops, and research experiences for both teachers and students, and
Providing tutoring for K-12 students throughout the state.
We expect great things from this center, and it will certainly broaden STEM knowledge throughout our area and state and generate greater interest in STEM education among young people throughout Missouri and beyond. We have already begun describing the center in proposals to leverage additional support for STEM outreach.
In addition to these efforts, we have established our "Army of Champions," made up of our own successful students, who return to their high schools to promote the importance of STEM education – and perhaps even brag a little about the benefits of an S&T degree. This important outreach effort also benefits from the support of the Kummer gift.
Last but certainly not least, Fred, our third goal is to ensure economic impact in our region and state. There is no doubt that your transformative gift is doing that already.
Your gift is critical for our efforts to develop a statewide "ecosystem" of small- and medium-sized manufacturers that can benefit from the knowledge and expertise of our faculty and doctoral students, as well as from the information-sharing that occurs among manufacturers. We are calling this effort the MME – which stands for Manufacture Missouri Ecosystem.
In a sense, the ecosystem already exists. But it is not integrated. That's where S&T and the Kummer Institute come in – as the connector, and as the hub for these manufacturers.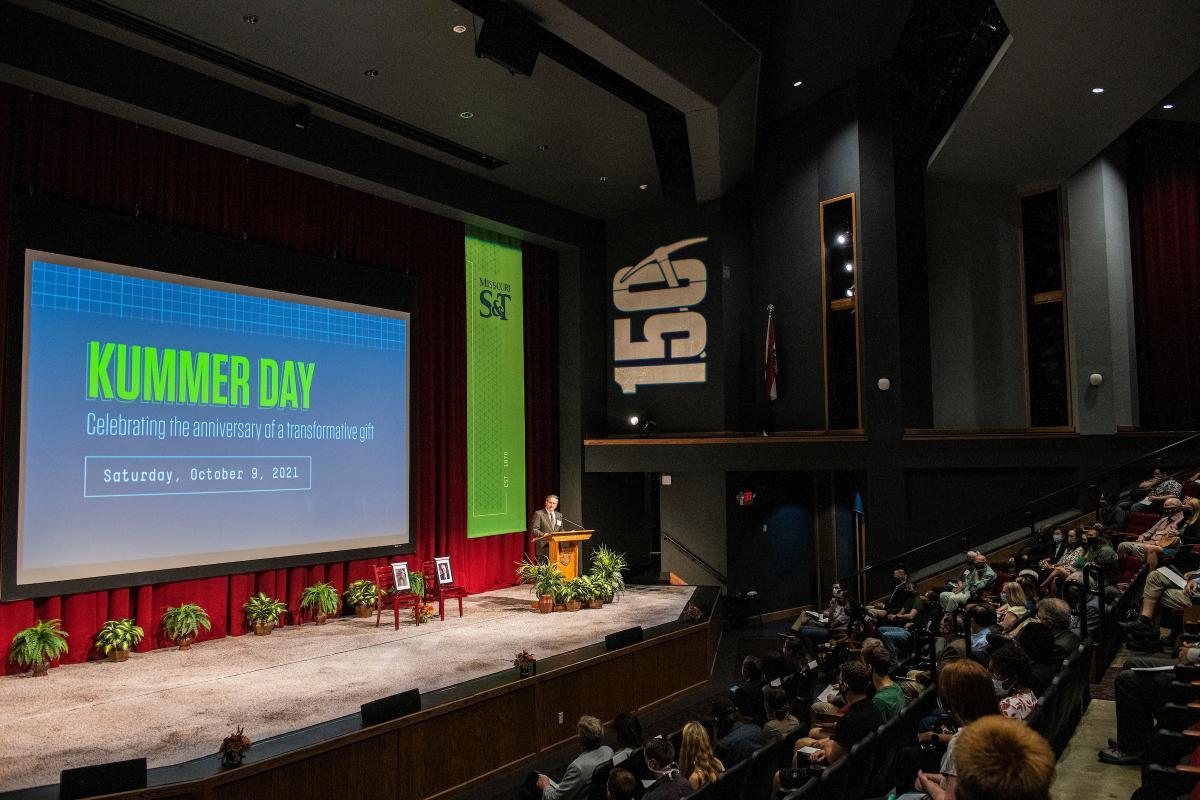 We are in the early stages of developing a manufacturing technology and innovation campus across Interstate 44, north of the main S&T campus. You know exactly where that is, Fred. The first building – called the Missouri Protoplex – will serve as the research and development hub for manufacturers across the state. The Kummer Institute Foundation board of directors has approved $50 million in matching funds to go toward the $105 million construction project. This significant commitment by the board of directors has already led to a $5 million contribution from the state of Missouri – directly to Missouri S&T – and we believe it will soon lead to additional support toward our goal.
Once again, your foresight and vision are already paying dividends toward our effort to enhance the regional and state economies.
We have other major construction projects in the planning stages, all of which benefit from your gift and your vision for S&T. They include:
The Innovation Lab, which will become a destination for students of every major to come together to create, to make, to invent, to brainstorm. The Innovation Lab will be a playground for possibility thinkers.
A Welcome Center, where visitors to our campus will enter the world of S&T in a new, immersive, experiential way with interactive displays and real-world connections.
A new building that connects two of our major research buildings – Straumanis-James Hall (for materials research) and the Engineering Research Lab. This will create the largest engineering research complex on our main campus. Here is where many of the new endowed professors and the Kummer I&E Fellows will have the space for their research. This facility will also provide room to grow as we continue our mission to significantly increase our enrollment of graduate students.
Your gift is also providing new support for S&T researchers and instructors in the form of seed grants to spur major research proposals or to develop innovative approaches to teaching and learning.
These seed grants, and the future proposals they will engender, will lead to further innovations to advance the economic development of our region, our state, and our nation.
Your gift also allowed our university to surpass our
$150 million goal of the Rolla Rising fundraising campaign, which began in 2016. Thanks to your generosity and the generosity of many others, we surpassed that goal with a record $423.4 million raised.
Fred, you encouraged us all to think big, and you and June backed it up with the largest charitable gift in Missouri history. You have significantly raised our sights and our supporters' confidence in our university.
I thank you for believing in us, for seeing the potential in Missouri S&T and for pushing us to be better. With these thoughts in mind, I respectfully submit to you the first annual report for the Kummer Institute for Student Success, Research and Economic Development.
Fred, please know that all who are serving at the Kummer Institute in one capacity or another know well that your shadow will cast tall and far in time and space. We also know that all of us today, and future faculty, staff, administrators and students, will often turn to you in our thoughts and find encouragement and hope as we traverse the Kummer course by reference to your directions.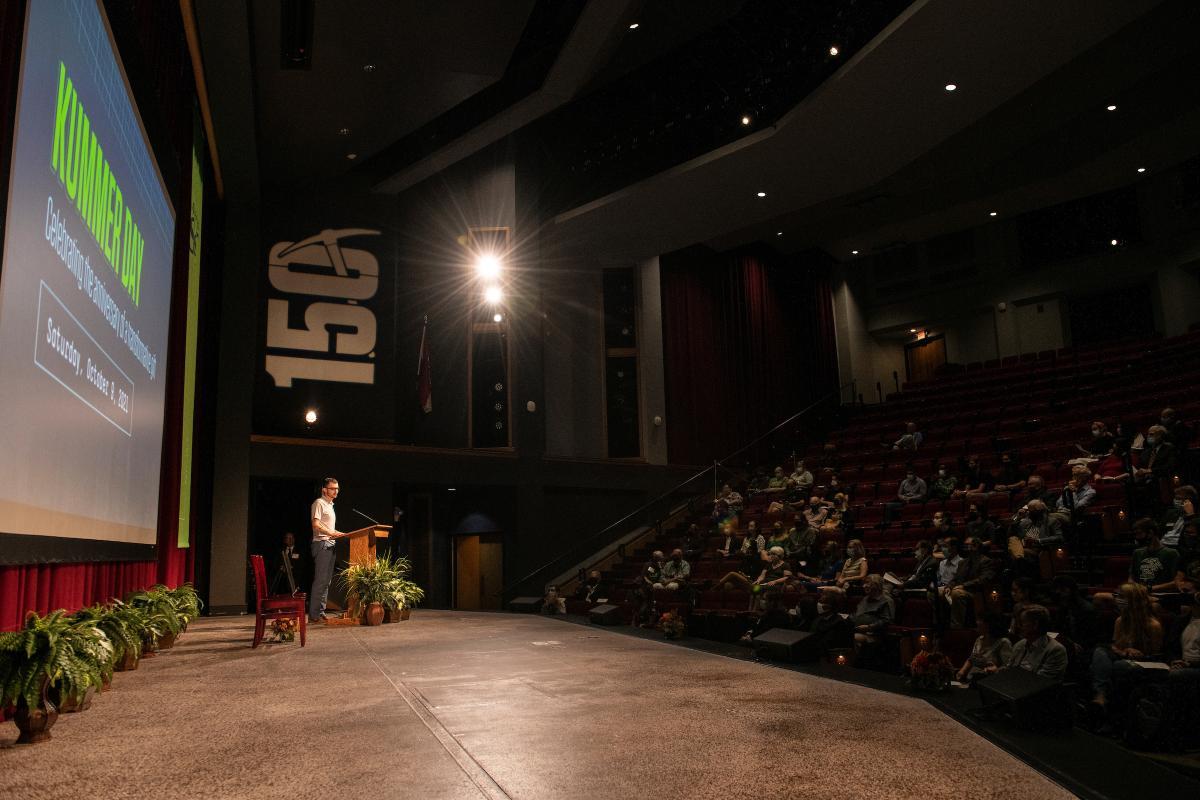 So, it is with honor, Fred and June, that we all thank you for your wisdom and for your generosity that will enrich the lives of our students and faculty for generations to come. We know, as we look to our next 150 years, that S&T's future will be even more relevant and impactive than its illustrious past 150 years that produced scientists and engineers the ranks of Fred Kummer, Vachel McNutt, Daniel Jackling, Karl Hasselmann and may others. The Kummer Institute that you created has an unlimited potential to impact lives for the better through STEM outreach and education. And that inspiration will also remain the responsibility of all who serve here.
In conclusion, I want you to know that a copy of this report, signed by me, will be included in the sesquicentennial time capsule that we will close next month as part of our 150th anniversary celebration activities. My hope is that 50 years from now, when the Missouri S&T community of 2071 gathers to celebrate our bicentennial and to open the time capsule, many of our inaugural Kummer Vanguard Scholars and Kummer I&E Fellows will be on hand to witness the occasion, and to tell the newest class of scholars and fellows about this day, October 9, 2021.


Rest in Peace, Fred.
Sincerely,
Mo Dehghani
Missouri S&T Chancellor